Magnetic Couplings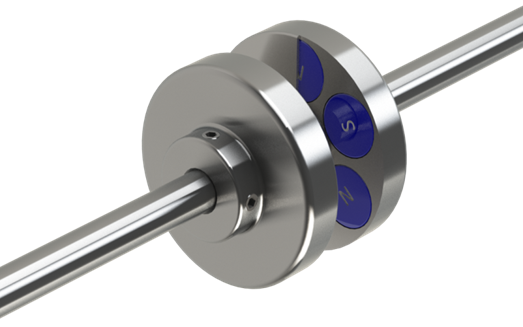 REQUEST A QUOTE
WHY USE MAGNETIC DISC COUPLINGS?
Disc type magnetic couplings consist of two opposing discs with powerful rare earth magnets. The torque applied to one disc is transferred through an air gap to the other disc. Because of its simple flat design, you can have angular misalignment of up to 3º or parallel misalignment up to ¼" and still transmit nearly full rotational torque. You could also fabricate an inexpensive flat barrier to separate the atmospheres or fluids surrounding the two discs. This is our simplest and most versatile coupling.
Typical applications include magnetic mixers and magnetic drive pumps.
Axial Forces
High axial force which must be restrained
Slip Torque Adjustment
Air gap can be adjusted to increase or decrease slip torque
Angular Misalignment Capacity
3° Max
Parallel Misalignment Capacity
0.25" Max
Containment Barrier
Simple flat barrier
Maximum Torque
Designs available up to ~45 ft-lb
Maximum Operating Temperature
140°C (Custom high-temp designs available)
*If data table appears to be cutoff please scroll horizontally
| Part # | Rated Torque @ STD. Air Gap | Breakaway Torque | Max RPM | Cut Sheet |
| --- | --- | --- | --- | --- |
| MDC 0.2 | .11 Nm OR 1 Lb-IN | .16 Nm OR 1.4 Lb-IN | 42,500 | Download Cut Sheet |
| MDC 0.3 | .45 Nm OR 4 Lb-IN | .56 Nm OR 5 Lb-IN | 26,000 | Download Cut Sheet |
| MDC 0.6 | .68 Nm OR 6 Lb-IN | .9 Nm OR 8 Lb-IN | 23,000 | Download Cut Sheet |
| MDC 1 | 1 Nm OR 9 Lb-IN | 1.4 Nm OR 12 Lb-IN | 19,000 | Download Cut Sheet |
| MDC 2 | 1.7 Nm OR 15 Lb-IN | 2.3 Nm OR 20 Lb-IN | 15,500 | Download Cut Sheet |
| MDC 5 | 4.5 Nm OR 40 Lb-IN | 5 Nm OR 44 Lb-IN | 11,700 | Download Cut Sheet |
| MDC 8 | 7.5 Nm OR 66 Lb-IN | 8.5 Nm OR 75 Lb-IN | 10,500 | Download Cut Sheet |
| MDC 12 | 12.2 Nm OR 108 Lb-IN | 13.6 Nm OR 120 Lb-IN | 9,000 | Download Cut Sheet |
| MDC 20 | 20.3 Nm OR 180 Lb-IN | 22 Nm OR 195 Lb-IN | 9,200 | Download Cut Sheet |
| MDC 30 | 25.4 Nm OR 225 Lb-IN | 27.7 Nm OR 245 Lb-IN | 9,200 | Download Cut Sheet |
| MDC 40 | 40.7 Nm OR 360 Lb-IN | 45.2 Nm OR 400 Lb-IN | 7,800 | Download Cut Sheet |
| MDC 50 | 53.1 Nm OR 470 Lb-IN | 61 Nm OR 540 Lb-IN | 7,800 | Download Cut Sheet |